Dollhouses are now making a comeback and learning how to build a dollhouse is now vital for some parents. The great thing about miniatures is that not only can your kids enjoy playing with them, but once your kids get older, the dollhouse can become a collector's item. Yes, you read that right! Collecting dollhouses has now become an important hobby for those of us who are still young at heart.
The most important question you're asking yourself right now is how do I make a dollhouse? You probably want to build your own dollhouse. Well, you've come to the right place. Here you will learn different techniques of building your own dollhouse for beginners.
What Tools Do I Need to Build a Dollhouse?
Oddly enough, few people ever sit down and plan for what kind of tools they will need. Many just go on ahead and layout their dollhouse design. If you want to build one of the best dollhouses with the ability to win an award for the best toys for a 2 year old girl. You better be organized!
Purchasing a miniature tool kit is a lot better since all the tools you need have been assembled in one place. The tool kit contains saw blades, screwdrivers, meter ruler, craft knives, sanding block, clamps, assorted blades, miter box, and drill bits. Now that you are all tooled up. Let's get started on that handmade dollhouse.
What are Dollhouses Made of?
This might seem like a simple question, however, the answer to the question determines the kind of DIY dollhouse you will build. Let's get started on the materials used to build miniatures.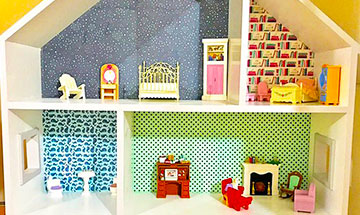 They include plywood, Gatorfoam, lauan, paperboard, taskboard, coroplast, craft strip wood, creative paper clay, and sheet styrene. Now, that you've got your materials, it's time for you to learn how to build an easy DIY dollhouse.
A Dollhouse out of Wood
You are probably reading this and asking yourself, do I need to acquire carpenter skills? Learning how to build a miniature house out of wood is easy. Here, we are giving you ideas on what kind of wood to use. Also you can peep some ideas from the ready wooden dollhouses, such as this one:
Sale

Kids Wooden Dollhouse by Hape
PERFECT ROLEPLAY DOLLHOUSE: A classic 3 story wood dollhouse that encourages imaginative roleplay with friends.
ROOM FEATURES: This dollhouse for kids features 6 rooms including four room sets of a master bedroom, family bathroom, media room and kitchen
FULLY FURNISHED: The house has unique home furnishings and household appliances that are easy to move and arranged as you like
DURABILITY: This kids wooden dolls house has solid wood construction and has a child safe paint finish
AWARD-WINNING: Recipient of the 2011 Oppenheim Toy Portfolio Platinum Seal Award
Lauan or luan plywood and craft strip wood are the most common wood materials used to construct miniature houses. Lauan material is less expensive. So if you're not looking to spend a lot of money on a miniature house, luan plywood is the wood to use. Luan material is easy to use, however, it does need a little bit more touch work than most wood material need.
On the other hand, the best craft strip wood to use for miniature houses is Tilia wood. Tilia wood is known for its fine grain and strength. Stripwood has been known to be used by miniature builders to construct scale furniture and building parts such as windows and doors. Stripwood is readily available from suppliers.
A Dollhouse out of Cardboard
If you were blessed with the talents of Leonardo da Vinci, you and your child could enjoy learning how to build a Barbie house out of cardboard. The great thing about cardboard dollhouses is that they are incredibly cheap. It is also a great way to recycle the cardboard in your house to reduce the amount of clutter in your house. With the materials coming at almost no cost, you can give your child to explore their artistic side. Give your child control of the design of the cardboard dollhouse. It is a great way for your child to learn how to make a doll house easy.
A Dollhouse out of a Bookshelf
Yes, you're about to recycle that old bookshelf in your house -and for the greater good too. You will not have to buy a miniature house or learn how to make a American girl doll house from scratch. All that will be needed are a few quick touches and your child's dolls or your dolls will have a place to call home.
A Fairy House out of a Shoebox
By now, you're starting to realize that there are many ingenious ways to build miniature houses. One other kind of toy you can build your child other than a dollhouse is a fairy house. Yes, those do exist. They are similar to miniature houses, however, fairy houses are homes to fairies. That shoebox that you've yet to throw away is the perfect material to use to build a fairy house. It will be a unique and special gift for your child.
How to Build a DollHouse from Scratch
Now here is the million-dollar question. You have already discovered that building miniature houses is not only simple but can also be fun. Now is the time for you to get into architect mode and develop dollhouse plans. You will also need to be creative and figure out a simple way of how to draw a doll house that will guide you during construction.
Step 1: Cut in half a ½ inch, 4 by 4-inch piece of plywood. You should have 2 plywood pieces each measuring 2 by 4.
Step 2: Take one of the two 2 by 4 plywood pieces and cut in half. Label the 2 by 2 plywood pieces on the back and store them for later.
Step 3: On your 2 by 2 plywood measure the center and identify the peak, then mark it. Place the square on the center and on both sides mark 40°.
Step 4: You should then proceed to cut the peaks then smoothen the edges by sanding.
Step 5: Cut your remaining 2 by 4 plywood piece into four 6 by 24-inch pieces to build a box. Two of the pieces are then cut 6 by 13 and 1/8 inches.
Step 6: The long sides of your box should be screwed top and bottom, while the short sides should be screwed on the insides.
Step 7: On the box's bottom measure 6 3/8 inch and mark on the front and back ends. The shelf sits on this spot.
Step 8: On the parts marked fix a piece of wood measuring 6 by 23. You now have a box with a shelf and backside.
Step 9: The remaining 2 by 4 plywood piece should be cut into two 8 by 24 pieces. Mark the two pieces at the 19-inch point. Using your saw that is tilted at an angle 45°, screw the top picks to the backside of the box.
Step 10: You can now paint the dollhouse. Once it dries you can decorate the dollhouse.
What is the Most Common Dollhouse Scale?
You don't need to be a genius to know that miniature houses come in different sizes. The important question to ask yourself here is, when building or collecting dollhouses, what scale should you consider? Such information is important to have since it will be important when you are choosing furniture for the miniature house.
Antique dollhouses which are usually collectors' items usually come in a custom size. Dollhouses for kids to play with, come in different scales. The scales range from 1:6, 1:24, 1:12, 1:48, and 1:16. Your needs determine the size and scale of the miniature house. This is the reason why some dollhouse sizes are popular with collectors and some are popular with kids.
How Should I Cut Out Dollhouse Parts?
Cutting the perfect pieces of wood during any construction is important. Learning how to cut wood for dollhouse parts is simple. All you need to do is measure your wood pieces and mark. If you have trouble cutting the piece of wood, use a ruler to mark the entire length you want to cut. You can now use your saw blade to cut the wood and to create wonderful toys for toddlers.
When Should I Paint a Doll House?
Painting a doll house can sometimes be overwhelming because of the thousands of ideas floating in your brain. You can paint your miniature house anytime after you've built the dollhouse and chosen paint color.
Doll house decorations should also be tackled during this stage. Some dollhouse kits come with decorating accessories simplifying the task. However, some of you prefer to learn how to decorate a dollhouse from scratch. This is the perfect chance for you to showcase your interior designing skills. Who knows a career change might just be around the corner if you are good enough.
How to Make Dollhouse Stairs
You should start by cutting a long 1by 4 piece of plywood, ensuring that the width matches the width of your stairs. Cut the plywood into pieces that are 15mm wide. Stack the pieces of wood on top of each other. Ensure the top piece does not cover more than a quarter of the bottom piece. As you stack them, use glue to hold the pieces together. One the glue dries, you can decorate the stairs and fit them in the miniature house.
How to Make a Dollhouse Windows
Prepare wooden sticks to frame the edges of the window. Paint or stain the wooden sticks. Fit the top and bottom of the window with wood sticks first before you fit the sides.
How to Wire a Dollhouse
Draw lines on all walls of each room an inch above the floor. Attach the double copper tape using the lines as your guide. Once you've decided where you will start wiring attach the junction splice, the transformer, and lead-in wire. Plug your transformer into the socket, and at the lead-in wire turn the switch on. Using a test bulb, test if your wiring works.
Customize your dollhouse: Traditionally miniature houses were made for girls. Today with the gender lines getting blurred anybody can use the dollhouse.
Aim for simplicity: You do not have to do everything by the book. For example, rather than building a window, just cut a window from a magazine and fix it on the dollhouse.
Are your decorations premade? For beginners decorating dollhouses can be a daunting task. So to avoid putting in a lot of time decorating the miniature house, try premade decorations.
Have fun: Doll houses are meant to be used to have fun. Your construction does not need to be perfect. Involve your kids in the building process.
Now it's time to get busy and building that miniature house. You don't have to stop there. Aim further and try to build your child play kitchens. You might end up winning the top dad or top mom award.
Have you enjoyed the article? Any questions on building dollhouses for beginners? Leave us a comment below.